News/Announcements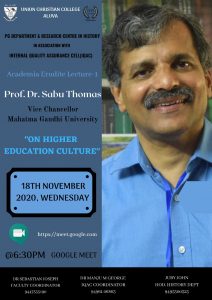 A Webinar on " On Higher Education Culture"  scheduled on 18th November 2020 at 06:30 PM by Department of History and IQAC.
Union Christian College secured second position in Best Performing Colleges (2019-20) under Mahatma Gandhi University, Kottayam with 314 points. A remarkable achievement to Physical Education Department and College. Congrats to the winners…..



National Webinar  " Towards Excellence in Higher Education in India in 21st Century"  scheduled on 28th August 2020 from 10:30 AM-2:00 PM by Department of Chemistry and IQAC in collaboration with Guru Angad Dev Teaching Learning Centre (GAD-TLC) of MHRD (PMMMNMTT), SGTB Khalsa College Delhi  University.
IQAC Core Committee (2020-21)
---
---
COVID-19 General Awareness Quiz
Organized by IQAC of Union Christian College, Aluva, Ernakulam Dist. Kerala 683102
A Quiz to create Awareness about, COVID-19 among Students and Public.
The participants were given a certificate electronically via email. The forms were open till May 31.
We had around 2750 responses from all over India.
Thanks to all participants.
---
UCC IQAC